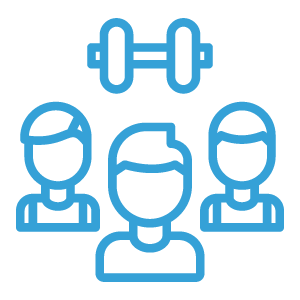 Did you know that poor employee health costs U.S. employers $530 billion a year?
Lack of employee wellness can cause absenteeism, higher turnover, lower productivity, and more. Our Corporate Wellness Program may help lower the risk of heart disease and diabetes, increase overall work performance, and improve camaraderie. 
The Wallace Fitness™ Corporate Wellness Program will take a tailored approach around your needs and our accumulated knowledge of how to best assist you in health, work efficiency, and team building.
We know a one size fits all approach won't work in the long run. Not all employees are the same level of health and fitness, nor motivated in the same way. Wouldn't you like a Corporate Wellness program specifically designed for you and your employees? 
Contact us for a quote today!
"The personal trainers at Wallace Fitness are always FANTASTIC to work with! I think more clearly and FEEL BETTER when I workout. I have seen an immediate increase in my productivity since I started training here, and my knee and ankle pains are gone. The Wallace Fitness studio is bright and always clean, with a beautiful view Mount Dora."- Ashley
Jeremy and his wife Ashley joined the 2021 Health Challenge as one of our corporate sponsors after they had both gained some weight during 2020 and were ready to start getting healthier. With their corporate sponsorship they created the opportunity for their Affinity Tech Solutions employees to participate and get healthier with them. 
They both decided to get serious about their goal and committed to a tailored program at Wallace Fitness™. They have been motivated and improving ever since. Despite being very busy business owners they have followed their Wallace Fitness™ training program twice a week, even utilizing zoom when they are out of town.
Furthermore, Jeremy started with a shoulder injury and has since made a full recovery. He decided to start with the Nutrition program as well after watching Ashley lose 30lbs over this year.
They are both making such great jumps in their health journey and we could not be more happy for them! They are the perfect example that with the right approach even while running a business, taking care of three kids, and traveling, time can always be made to focus on health! 
"Investments: I often speak of mental health in my post. I've come to learn that there is a direct correlation between mental and physical health. A little over a month ago I decided to step up my workout routine. Sine Wallace met with me and did a personalized workout plan.
I am 33 workouts into it and have seen a significant difference. I've lost 7 lbs, I'm now walking pain free, and feel my core getting stronger, and have more energy. About a week ago while walking my dog I stepped into a hole, roll my ankle and and fell.
Just the ability to get up without pain or struggle was a victory( yet embarrassing). Since double hip replacement I walk a lot but wasn't building strength, and I always felt tightness in my hips and stayed in constant pain.
On Wednesday I did a presentation at Pinecrest Academy on the basketball court. I was able to squat and pick up display items from the ground without pain. Those may sound simple but the older I get the more I realize just having a regimen of core training stretching and some strength training has made a significant impact in my life.
As a law enforcement officer in his 50s I feel much better heading toward the finish line of this career and the starting line of my next. I encourage my coworkers at the Sheriff's Office to look into this program that we have available as part of your whole body wellness, take care and stay safe."
Don't Hesitate... The Next Step to a Better You is FREE!
We only get one body and one life. Make the most of it by getting and staying in shape.
Physical fitness is the foundation to a better life.